Many law enforcement departments have begun issuing individual trauma kits (sometimes called gunshot kits or stop the bleed kits) for officers to carry in their vehicles. This is great news because it not only allows officers to provide first response care to an injured individual before EMS arrives, but with the recent rise of mass shootings it allows officers to provide life-saving care (such as a tourniquet or QuikClot) not only to patients, but also to themselves or fellow officers.
.
One of the primary issues that we have seen with these kits being implemented in the field is that they are often just thrown into the trunk of the patrol vehicle – usually buried underneath traffic vests, riot gear and other items.
In the event of a mass shooting or other trauma situation, a few seconds can mean the difference between life and death. Trauma kits should easily visible, not only for fast deployment, but also to allow for regular inventory of the supplies – including checking expiration dates.
Lightning X has developed the perfect bag for this scenario that is designed to universally attach to any vehicle headrest. The main bag attaches to the rear base via a hook & loop panel so that it can be easily removed in the event of an emergency with only the pull of your hand.
Additionally, the bag can be opened while still attached to the base on a headrest and three tiered panels are revealed. The top two panels have various sizes of elastic tool loops in addition to pockets for storing supplies.
The bottom panel is a zippered mesh compartment that is also easily removable via the hook & loop attachment to the bag. The rear attachment panel is reinforced so that it is strong enough to attach to the headrest or bag without sagging but is pliable enough to contour to the shape of your headrest. Finally, the front of the bag is covered with a laser-cut hook & loop MOLLE panel for storing additional tools, mounting morale patches, or attaching additional MOLLE gear. This panel comes with a rubber RED CROSS emblem included with the bag.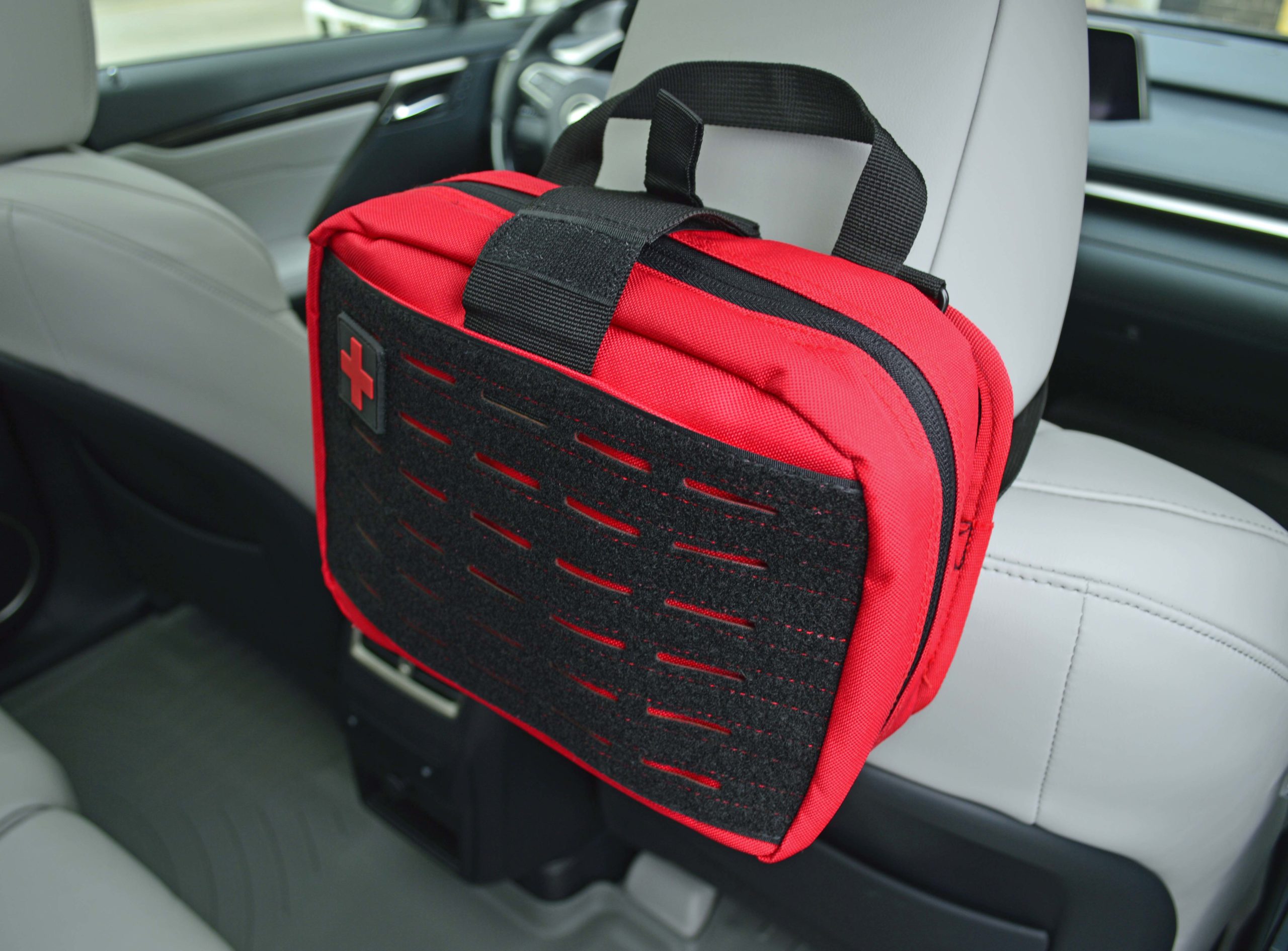 The LXPB50 is available as a standalone bag, or in two different kit variations including an officer's patrol gunshot kit, as well as a public access first aid kit. The public access kit (LXPB50-SKV) is great for soccer moms to truck drivers and everyone in between. We selected real world supplies that you would need in the event of an emergency. From boo boo's and broken fingers to headaches and fevers, we've got you covered!
A lot of first aid kits on the market may claim to have "200 pieces", but usually about 95% of those are adhesive bandages and gauze… more than you'd ever use in a lifetime. That's definitely not the case with a Lightning X First Aid Kit.
Check out all the included supplies below:
The officer's patrol kit (LXPB50-SKL) is an excellent pack for treating gunshot and stab wounds, as well as other life-threatening traumatic injuries. We do recommend that you familiarize yourself with this kit and train on how to use the supplies before deployment.
Below are the supplies included with this kit:
Regardless of whether you decide to purchase one of our pre-filled kits or buy the stand-alone bag and fill it with your own supplies, the LXPB50 is the best choice for any vehicle first aid application. As always, our bag comes with a limited lifetime warranty from Lightning X Products. Stay safe out there!